Honouring Lee Maracle
Nov 11, 2021
—
By CS Team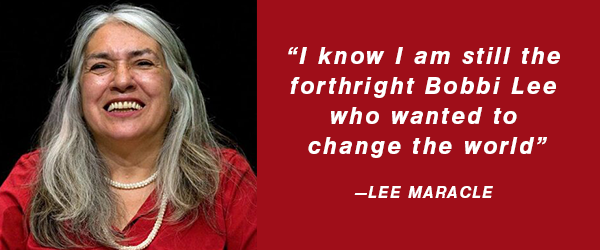 "This story deserves to be told; all stories do. Even the waves of the sea tell a story that deserves to be read. The stories that really need to be told are those that shake the very soul of you."
―Lee Maracle, Celia's Song
Our team is deeply saddened by the passing of Lee Maracle. It's been an honour to have the opportunity to work together with this celebrated and prolific Indigenous, feminist, queer educator, leader, and storyteller. Her family and loved ones are fiercely in our hearts.
Lee's first published book, Bobbi Lee, Indian Rebel is biographical in nature about growing up in the 60's and 70's. First dictated in over 80 hours of spoken word sessions, she chronicled her journey towards political consciousness, Indigenous resistance, and her quest to reshape the world. In the foreword to the second edition, Lee reflected on who she was during the book's creation:
"I was an activist during the composition of this book—and that has not changed. I had an international perspective inherited from my people—and that has not changed. I was a burgeoning feminist—and that has not changed. I was a nationalist—and again that has not changed. I do hope I am more thoughtful than I was when I was young, but for the most part, I know I am still the forthright Bobbi Lee who wanted to change the world."
Lee remained, always, that incredible woman thoughtfully pushing for change, for Indigenous voices to be celebrated, and for resistance. Her fiction, non-fiction, scholarly contributions, and poetry have sparked her warrior spirit in new generations of Indigenous and feminist voices and invited them to take up the fight with her.
Lee Maracle's legacy lives on in this fight, in her writing, in the work of those she inspired, and in our nation's heart. In 2018 she was awarded the Order of Canada, the highest honour our country can offer, for her years of embodying "one of the most influential Indigenous voices in Canada's literary landscape" and her tireless work in promoting social justice.
We are so proud to have been a small part of Lee's story. We will remember her fondly and continue to fight alongside her through uplifting Indigenous and Feminist voices. Her words, actions, and stories will continue to shake our very souls.

"We work with stories personally. We work with them any way we want. Stölo means river. I am the river and I can forge the river. I create the pain and I alleviate the pain."
―Lee Maracle
Listen to Lee Maracle's 2020 Margaret Laurence Lecture: